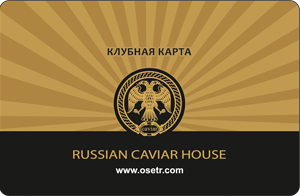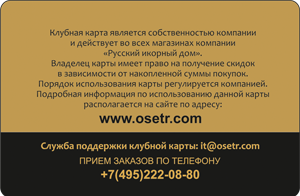 Ladies and gentlemen, welcome to the Club!
Every customer of "Russian Caviar House" may become a previledged member of our Club. Club card holders buy our products at a discounted price.
Discounts for priveledged members
Discounts depend on the amount of orders and may be as follows:
After your first paid order a 5% discount will be assigned to your account. If your first order amounts to 20,000 rubles or more, it will be discounted automatically by 5%.
Personal discount is accumulative, its percentage depends on the amount of your orders. When the total sum of your orders reaches 50,000 rubles, your discount on our products becomes 10%. If your first (or next) order amounts to 60,000 rubles, your order will be discounted automatically by 10%.
Your discount is accumulative and permanent. The discount applies to all the products in the asortment except for promotional offers.
The Club discount is not summed up with other temporary promo discounts available for all customers.
How to get the membership
You need to get registered at our website and make any purchase. You may also place an order by phone, via our operator.
The Club card is both virtual and physical, the plastic version may be handed over to you along with the order. Your personal discount is applied automatically when you order online logged in at this website. When ordering via telephone, we can also identify you as the cardholder and apply the appropriate discount. The plastic Club card may be used at our stores as well.
We recommend to keep your registration information and do not create new accounts in order to preserve your history of orders and accumulative discount.

In case of any difficulties with authorization please contact us via site messanger or telephone. You may also restore your login and password via the webform.

We will be glad to see you among our regular customers!